Here are some additional facts about Mike
that make him a leader in his field: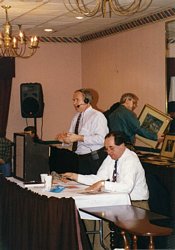 Author, Home Downsizing in 4 Easy Steps.
Author, 15+ other books and eBooks in the Antiques & Collectibles field.
Professionally Licensed & Bonded Auctioneer since 1994.
He was named Pennsylvania's 2004 Auctioneer of the Year by fellow Pennsylvania Auctioneers.
Graduate Personal Property Appraiser (Mike is only one of 236 GPPA's in the entire United States).
Master Personal Property Appraiser (Mike is only one of 60 MPPA's in the entire U.S.)
USPAP-Compliant Appraiser (having passed the final exam for the Appraisal Institute's 15-hour USPAP course).
Active Member, Pennsylvania Auctioneers Association.
Active Member and Past President, Lehigh Valley Society of Auctioneers.
Professional Antiques Dealer, 30+ years.
Active Member and Past President, Bucks County Antiques Dealers Association.
Author, 15+ books and eBooks in the Antiques & Collectibles field.
Antiques Columnist, whose columns have appeared in most National Antiques & Collectibles Trade Publications.
Contributing Consultant to most national Antiques & Collectibles Price Guides (including Warman's, Schroeders, Antique Trader, Kovel's, more).
Frequent speaker and lecturer in the Antiques & Collectibles field, having appeared on television, radio, and in print.
Past Instructor at the GPPA Course and other Professional Seminars.
Graduate, Rider University, B.S. Finance.
Mike is an expert witness in:
Wallace Nutting Pictures
Wallace Nutting Furniture
Early 20th c. Hand-Colored Photography
Early 20th c. Prints
Early 20th c. Pastels


The Michael & Susan Ivankovich Team
Michael & Susan Ivankovich have been a team for more than 20 years. Whereas Mike is the Auctioneer, Appraiser, and Home Downsizing Consultant, Sue is the Web Designer, Administrative Support Professional, and Fund Raising Auction Manager.
Susan Ivankovich Web Design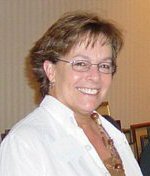 Sue designs, creates and maintains all of our Web Sites, as well as the Web Sites of numerous clients. Sue's approach to Web Site design is fairly simple. Nothing slick. Nothing too fancy. Rather, Sue Ivankovich excels at creating attractive, effective, and easy-to-navigate web sites…that Sell.

If this is your first web site, Sue can ease you through the process of producing an effective and professional, yet creative look.

If you already have an existing site, Sue can assist in enhancing the look and make it more engaging.

Not everyone needs a flashy, complicated, and expensive web site. Sue's main goal is to make your site attractive and easily navigable, all while keeping your costs under control.
Susan Ivankovich Administrative Support Services
Sue can handle all your office needs for that special project or on an ongoing basis. She works as professional assistant, providing administrative, technical, and creative support to her clients. When Sue works for you, you receive 100% productivity since you are only paying for the time that is worked…and as an independent contractor, no benefits are required.

At your discretion, project work can be completed in your offices, or in her own office, where no extra space or costly equipment is needed at your location. And she stay in communication via the latest technology. Which can become a win-win situation for all.

Some of Sue's available services include:
Web Site Development, Design. and Site Maintenance.
Graphic Design/Desktop Publishing for Newsletters, Brochures, Manuals, and other promotional material.
Event Planning and Management.
Live and Silent Fund-Raising Auction Coordination.
Power Point Presentations.
Mailing List Maintenance.
Photo/Document Scanning; Image Editing; PDF File Applications
Word Processing and Spread Sheets.
Database Management and General Clerical Services

Some of her current & past clients include: Highpoint Cancer Center; Pennsylvania Auctioneers Association; Sanford Alderfer Auction Company; Bucks County Antiques Dealers Association; USA Gymnastics, Region VII; Mancino, Burfield, Edgerton Executive Search Firm; Wallace Nutting Collectors Club; Greater Philadelphia Baseball & Softball Coaches & Player Clinics; Parents with Adult Children Counseling Services; many others. References can be provided upon request.
Is Your Group Seeking to Raise Funds?
We Offer Ivankovich Fund Raising Auction Services
Fund Raising Auctions today are more popular than ever before. As governmental and private funding continues to shrink, Fund Raising Auctions represent a fast and fun approach to raising much-needed funds for nearly every type of group or cause. You can raise thousands of dollars in a single day or evening...while putting on an event that is fun for your group and supporters. And when you conduct a Fund Raising Auction, you are not simply asking for money. Rather, you are providing a tangible product or service in exchange for your funding. It becomes a win-win situation for your organization and its supporters.

Perhaps We Can Help. The Michael & Susan Ivankovich Team have an extensive background in promoting, managing, and calling Auctions. Mike has the easy job. He calls the Auction. Sue has the harder job. Sue puts it together and makes it work. Mike and Sue have worked with numerous non-profit groups in helping them to raise much-needed funding for their group or cause.

Our Services Can Include…Professional Bid Calling only. Or, we can offer other services designed to increase your revenue stream, such as Pre-Event Planning, Budget Development, Committee Training, Item Acquisition & Acquisition Staff Training, Event Marketing, Venue Theme & Decoration, Cataloging of Auction Items, Photography & Image Editing, Auction Set-Up, Computer Hardware & Auction Software, PowerPoint Slide Development, Auction Day Staffing, Auction Registration & Check-Out, Forms & Signage, Supplemental Revenue Streams, Post Auction Analysis, Subsequent Year Auction Planning, and much, much more.

Contact us for your FREE Fund Raising Auction Consultation. Click here for more information about our Fund Raising Auction services.
Michael Ivankovich, GPPA, MPPA
Personal Property Appraiser
P.O. Box 1536, Doylestown, PA 18901
Office: (215)-345-6094 Cell: (215)-264-4304
E-Mail: [email protected]
Web Site: www.michaelivankovichappraisals.com