We Take the Risk Out of Selling Precious Metals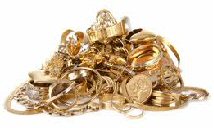 As an Auctioneer, Appraiser, and Home Downsizing Consultant based in Doylestown PA, Michael helps clients to move and downsize their homes. But more importantly, he helps clients to deal with their "Stuff". He helps them to understand the value of their antiques, collectibles, residential contents…and precious metals…as well as how…and where …to best sell them for the most money possible in today's market.
Because selling gold and silver can be so confusing, he helps clients to confidentially convert their gold and silver into the most money possible by identifying items of value and locating the dealer who is paying the highest percent of spot price for what they are selling. Despite today's high Gold & Silver prices, many people are still sitting on their precious metal items for fear of being cheated. We take the "Smoke & Mirrors" out of selling Gold & Silver and help clients to obtain the highest prices possible when selling their Jewelry, Coins, Flatware, Decorative Accessories, and more.
We meet with our clients to review their jewelry and precious metals.
We separate the Sterling & Gold from the Silverplate, Gold-Filled, and Costume Jewelry.
We separate the valuable "Junk Silver" coins from the non-silver coins
We calculate the precious metal weight and estimated value …Before Selling.
We locate the dealer who will pay the highest percent of Spot Price.
We convert the precious metals into most cash possible.
We hand-deliver the check.
We are not precious metals dealers and we do not buy.
We are professional appraisers and work as consultants only.
If you need help selling your gold or silver, contact us at (215)-345-6094.
How to Deal with Household and Estate Coins


For more information on selling your precious metals, we invite you to read Mike's recent articles titled:
"…the check you delivered for my silver was thousands of dollars more than the dealers I contacted had offered. Thank You! Thank You! Thank You!"... F.E., Philadelphia PA