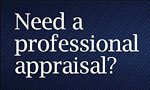 These appraisals involve detailed research into what comparable items have sold for in comparable markets recently. Where appropriate, our appraisals may include authentication services, weighing of objects, and research into markings. And our appraisals involve in-depth valuation research using such resources as:



Internet Web Sites, including important fee-based Web Sites that are not readily available to the general public
Our extensive Library of Reference Books and Valuation Guides
Auction Catalogs with Post Auction Prices
Specialty Consultants and Peer Consultations
General Market Valuation Resources

For those in need of our appraisal services we can perform the following services:
Travel to the appraisal site.
Examine and photograph all applicable items.
Edit and number all digital images for identification purposes.
Research comparable items and current market value.
Make valuation adjustments depending upon such factors as desirability, rarity, condition, provenance, market demand, economic climate, etc.
Provide a legally acceptable written appraisal report.
Be able to back up our appraised values, when necessary.
Retain your appraisal report on file at least 5 years.
Call us at (215)-345-6094 to discuss your personal property appraisal needs.
Michael Ivankovich, GPPA, MPPA
Personal Property Appraiser
P.O. Box 1536, Doylestown, PA 18901
Office: (215)-345-6094 Cell: (215)-264-4304
E-Mail: [email protected]
Web Site: www.michaelivankovichappraisals.com