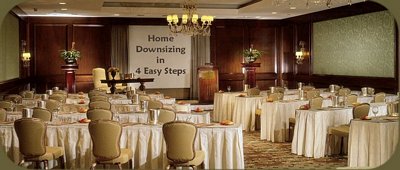 Michael Ivankovich is an Auctioneer, Appraiser, Home Downsizing Specialist, Fundraising Auctioneer, Author, Public Speaker, and much more. And Michael may be available to speak to your group, organization, or event. For further details, visit www.michaelivankovichappraisals.com or call his offices at (215)-345-6094 to discuss his speaking schedule and your organization's needs.
________________________________________
Presentations by Michael lvankovich
Antiques Road Show: What Are Your Treasures Worth?
Home Downsizing in Four Easy Steps
Selling Gold or Silver? How the Scrap Precious Metals Game is Really Played.
25 Areas Guaranteed to Disappoint When Selling Your Household "Stuff"
Going Once, Going Twice, SOLD! Let's Have An Auction
Fundraising Auction Secrets: How To Run Highly Profitable Fundraising Auctions
Is That All My Dining Room Is Worth?
50 Things Nearly Every Home Can Throw Away...Today
________________________________________
Presentation Outlines
ANTIQUES ROAD SHOW: WHAT ARE YOUR TREASURES WORTH? In this session Professional Appraiser Michael Ivankovich will introduce you to the concept of "Value"…and reveal what your Antiques, Collectibles, and Personal Treasures are really worth today. Each attendee is invited to bring in one item for Mike to appraise.
HOME DOWNSIZING IN 4 EASY STEPS: You've spent a lifetime accumulating antiques, collectibles, and other household contents. Now you are ready to downsize your home. What do you do with the items that you or no longer want or need? In this presentation Michael will show you how you can sell your excess personal property for the greatest amount of cash…with the least amount of work…in the shortest amount of time...in today's rapidly changing market.
SELLING GOLD OR SILVER? HOW THE SCRAP PRECIOUS METALS GAME IS REALLY PLAYED: Before you rush out and scrap your family heirlooms … BEWARE!!! You had better understand "How the Scrap Gold & Sterling Silver Game is Really Played" because if you are not extremely careful, the windfall you are expecting may end up in the dealer's pocket, and not yours. In this session Michael will share a 5-step approach to understanding how to sell your precious metals for the most money possible.
25 AREAS GUARANTEED TO DISAPPOINT WHEN SELLING YOUR HOUSEHOLD "STUFF". In this session Mike will explain why many of the things you own may be worth much less than you thought. But don't despair because he'll also reveal those categories that are probably worth more than you expected.
GOING ONCE! GOING TWICE! SOLD! LET'S HAVE AN AUCTION: In this session Michael will take you from the earliest beginnings of the Auction Industry to the state-of-the-art 21st century Auction technology. Never been to an Auction? That will change after this presentation when Michael conducts a live Auction for your group. He'll bring some actual tangible items that he will "Sell" to you via the Auction Method of Selling. But you can leave your purse or wallet at home because Michael will also give you some "Michael Money'" which you can spend at this Auction. Auctions are meant to be fun and in this session Michael will show you how much fun Auctions can be.
FUNDRAISING AUCTION SECRETS: HOW TO RUN HIGHLY PROFITABLE FUNDRAISING AUCTIONS: A primary objective of most non-profit and civic groups is to raise as much money as possible to support their favorite causes. With today's soft economy many are turning to Fundraising Auctions in order to raise the additional needed funds. And for good reason because a well-run Fundraising Auction can raise tens-of-thousands of dollars in a single night…if it's done right. In this session Professional Fundraising Auctioneer Michael Ivankovich will introduce you to the important elements needed to run highly profitable Fundraising Auctions.
NEW IN 2013: IS THAT ALL MY DINING ROOM IS WORTH? All too often our children don't have the same tastes that we did . In this presentation Michael will explain which of your dining room contents can be extremely valuable, and which are probably worth a whole lot less than you thought.
NEW IN 2013: 50 THINGS NEARLY EVERY HOME CAN THROW AWAY...TODAY!: Most of us have become "hoarders" of one sort or another. In this light and fun session Michael will share with you 50 things you can probably throw away as soon as you hear this presentation.
________________________________________
About Michael lvankovich
Michael has been involved in some phase of the Auction, Antiques and Collectibles business for more than 35 years. He is a frequent lecturer and spoken before groups too numerous to list. He has authored more than 20 books and eBooks in his areas of specialty, has written articles and columns for most major national trade papers, has appeared on various radio and television programs, is frequently consulted by antique columnists from throughout the country, and serves as a contributing advisor within his specialty areas to all major Antiques & Collectibles Price Guides.

Michael Ivankovich is a Home Downsizing Specialist and Author based in Doylestown PA. His primary role is to guide clients through the entire Home Downsizing process, helping them understand the value of their personal property assets, helping them determine whether they have any valuable hidden treasures, and helping them dispose of their excess personal property assets for the greatest amount of cash, with the least amount of work, in the shortest amount of time. His book, Home Downsizing in Four Easy Steps, can be found on Amazon.com.

He is a GPPA (Graduate Personal Property Appraiser), MPPA (Master Personal Property Appraiser), and an Appraisal Institute USPAP-certified Appraiser specializing in written Appraisals for Probate & Estate Tax, Insurance, Inheritance, Divorce, Insurance, Non-Cash Charitable Donation, Life Planning, or other personal, business, or legal purposes.
Mr. Ivankovich is also a licensed Auctioneer in Pennsylvania and has conducted Auctions in nine states. He is a member of the Pennsylvania Auctioneers Association where he has been named Pennsylvania's "Auctioneer of the Year" by fellow Auctioneers. He has served as the President of the Lehigh Valley Society of Auctioneers, and as President of the Bucks County Antiques Dealers Association as well. He is an experienced Fundraising Auctioneer who has been helping non-profit groups raise needed funds for good causes for nearly 20 years. His two latest books, "Fundraising Auction Secrets" and "Jump Start Your Fundraising Auction" are available.
---
Recent Michael Ivankovich Presentations
25+ Regional Rotary, Lions, Sertoma, & Kiwanis Groups
25+ Regional Questers, Red Hatter, Church & Women's Groups
1st Saving Bank of Perkasie Senior Expo, Silverdale PA
Ann's Choice Retirement Community, Warminster PA (multiple presentations)
Antiquarian Group, Montgomeryville PA
Association of Fundraising Professionals Franklin Forum, Lafayette Hill PA
Blue Bell Rotary, Blue Bell PA
Bucks County Antiques Dealers Association, Gardenville PA
Bucks County Chamber of Commerce Expo, Doylestown, PA
Bucks County Community College, Newtown PA
Bucks County Estate Planning Council, Lahaska PA
Capital Insurance & Investment Planning, Chalfont PA
Central Bucks Aging Task Force, Doylestown PA
Cheltenham Library Volunteers, Cheltenham PA
Doylestown Lions Club, Doylestown PA
Eastern Montgomery County Women's Connection, Blue Bell PA (multiple presentations)
Emmaus Rotary, Emmaus PA
Fonthill Questers, Warrington PA
Hatboro Rotary, Horsham PA
Hunterdon County Public Library, Flemington NJ (multiple presentations)
Levittown-Fairless Hills Rotary, Levittown PA (multiple presentations)
Manor at Yorktown, Jamison PA (multiple presentations)
NARFE - National Active & Retired Federal Employees, East Norriton, NJ
New Century Club, West Chester PA
New Jersey Auctioneers Association, Bridgewater NJ
Norristown Rotary, Norristown PA (multiple presentations)
North Penn Rotary, Blue Bell PA (multiple presentations)
ORT Women's Group, West Chester PA
Palmerton AARP, Palmerton PA
Pearl Buck International, Dublin PA (multiple presentations)
Pennsylvania Auctioneers Association 2013 Convention, Harrisburg PA (multiple presentations)
Residences at Dockside, Philadelphia, PA: 25 Categories Guaranteed to Disappoint When Selling
Review Club of Montgomery County, Horsham PA: Let's Have An Auction
St. Bedes Young at Heart Seniors Group, Holland PA
St. Paul's Church 60-Plussers, Doylestown, PA
Telford Lutheran Home, Telford PA
To Live Again, Warrington PA
Warminster Parks & Recreation, Warminster PA (multiple presentations)
Warrington Rotary, Warminster PA
Warrington Lions, Warminster PA
White Oak Financial Group, Branchburg NJ )(multiple presentations)
Woman's Group of Wyncote, Wyncote PA
Many More.
TV & Radio Appearances
Comcast Cable TV - Money Matters
Comcast Cable TV - Central Bucks Aging Task Force
WFIL Radio (Mark Daniel, Home Downsizing Interview)
WNPV Radio (John Ralston, Fundraising Auction Interview)
WNPV Radio (Randy Brock, Home Downsizing Interview)
National Radio (Harry Rinker's "Whatcha Got" Radio Show, Home Downsizing Interview)